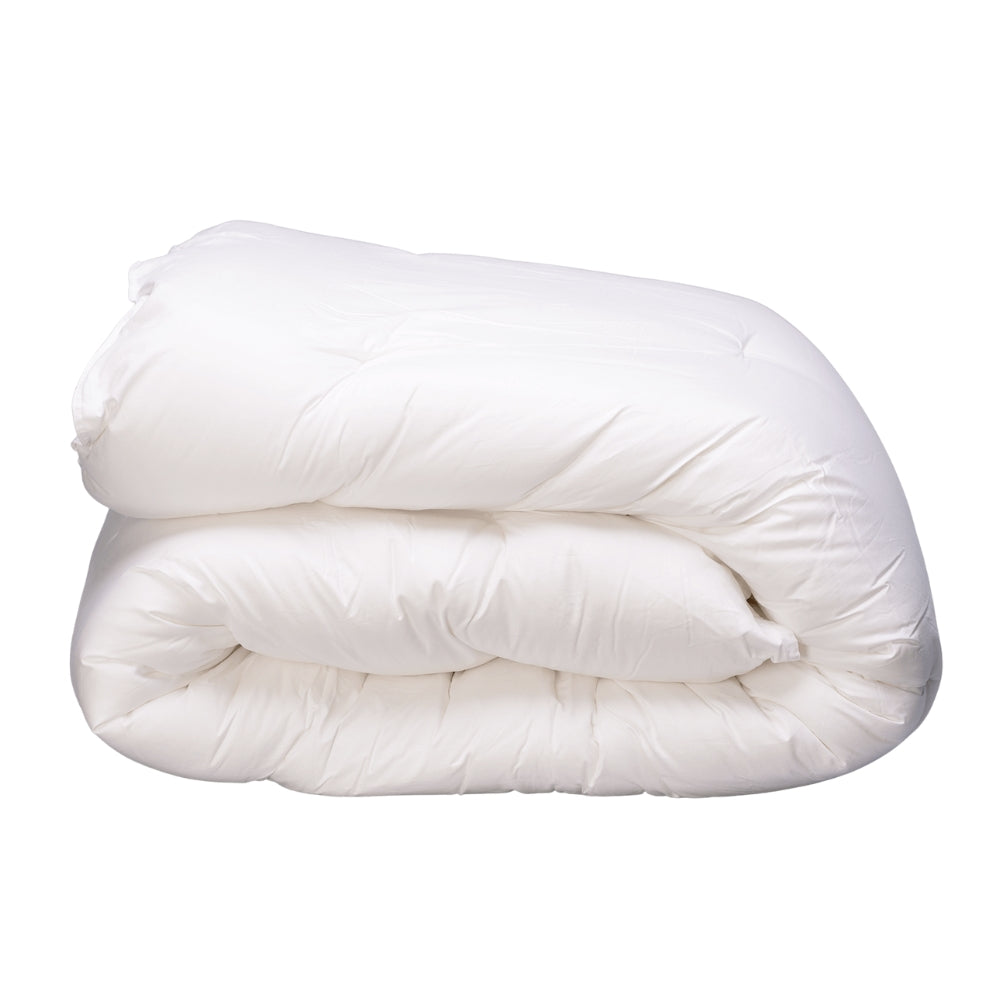 Stumptown Deluxe Wool Mattress Topper

Enhance your sleeping experience with the Deluxe Australian Wool Topper, designed to transform the feel of your mattress and provide unparalleled comfort. If you've ever found your mattress to be too firm, this topper is the perfect solution. Unlike your mattress, the topper offers the flexibility to easily switch and enhance the comfort of any mattress of your choice.
The Deluxe Australian Wool Topper boasts a generous filling of 10 pounds (for a queen size) of premium Australian sheep's wool. It is encased in a 360-thread-count unbleached, natural cotton cover for a luxurious feel. Equipped with large elastic straps at each corner, this topper ensures a secure fit on mattresses of varying thickness.
The cotton encasement features meticulously sewn, button-sized tufting, preventing the internal wool fill from shifting and bunching while maintaining maximum loft for pressure-relieving comfort.
Key Features:
Antimicrobial properties for a clean sleep environment
Hypoallergenic for allergy-prone individuals
Dust mite resistant
Moisture-wicking to keep you dry and comfortable
Mold and mildew-resistant
Wool's natural flame resistance for safety
Temperature regulation, providing warmth for cold sleepers and coolness for hot sleepers
Wool is a renewable resource, and the topper is entirely biodegradable
Specifications:
Materials: 100% Unbleached Cotton Encasement – 360-thread cotton | Fill: 100% Australian Wool Fill – 1500g/m²
Large elastic straps on each corner for a secure fit
Sizes & Fill: 

Twin: 

75″L x 39″W x 2.5″D | Fill: 1500g/m²

Twin XL: 

80″L x 39″W x 2.5″D | Fill: 1500g/m²

Full: 

75″L x 54″W x 2.5″D | Fill: 1500g/m²

Queen: 80″L x 60″W x 2.5″D | Fill: 1500g/m²

King: 80″L x 76″W x 2.5″D | Fill: 1500g/m²

California King: 84″L x 72″W x 2.5″D | Fill: 1500g/m²
Care Instructions:
Maintaining your wool topper is easy. Periodically fluff it manually and allow it to air out in the sun. This natural process helps regenerate the topper's loft while also deodorizing the inner wool filling, ensuring a fresh and comfortable sleep surface.