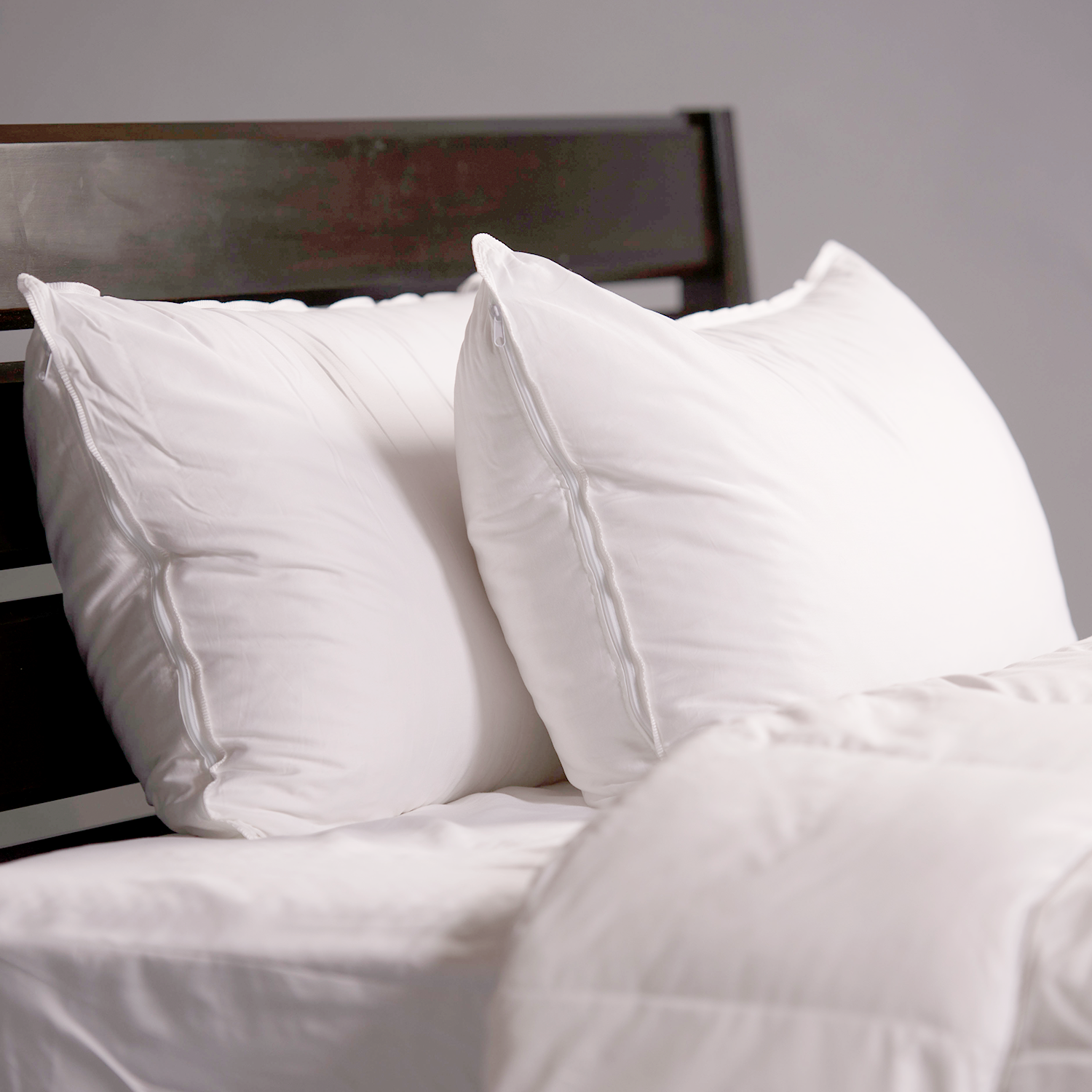 Stumptown Shredded Latex Pillow

Experience the ultimate in customizable comfort with our Shredded Latex Pillow. This exceptional pillow comes generously filled with our signature shredded Botanicore™ Latex, a natural and sustainably harvested botanical latex. Embrace the benefits of sleeping on botanical latex, including its antimicrobial, hypoallergenic properties, and resistance to dust mites, mold, and mildew.
What sets our Shredded Latex Pillow apart is its complete adjustability. It arrives plump and generously filled, but you have the power to tailor its firmness to your liking. Whether you prefer it slightly plump or barely full, our zippered 100% cotton cover allows easy access to the pillow's fill, enabling you to make comfort adjustments at your convenience. As your sleep positions change, your pillow can adapt accordingly.
Our patented Botanicore™ shredded latex is exclusively derived from rubber trees and sourced through a low-impact, sustainable process right here in Seattle. We take pride in repurposing excess material from our latex mattress and topper production to create these exceptional pillows, diverting valuable fill material from the waste stream and transforming it into something extraordinary.
Key Features:
Arrives generously filled
Fully customizable for your comfort
Zipper access for easy fill adjustments
Antimicrobial and hypoallergenic
Resistant to dust mites, mold, and mildew
Temperature regulating
No off-gassing
Biodegradable
Specifications:
Brand: 45th Street Bedding
Made in Vietnam
Cover: 100% Cotton with zipper
Fill: 100% Shredded Botanicore™ Latex (Please note that shreds may vary slightly due to the material's nature and production process)
Care Instructions:
Remove pillow's inner fill and set it aside.
Machine wash the cotton cover in warm water on a delicate cycle, preferably with a mild, biodegradable detergent.
Lay the cover flat to air dry or tumble dry on low heat to prevent shrinkage. (Note: The cotton cover is fully removable and machine-washable for easy care, but the shredded latex should not be washed.)
Discover Your Perfect Pillow Match Based on Sleep Positions
In the quest for restful sleep, the right pillow tailored to your unique sleep position can make all the difference. While our range of pillows is designed with versatility in mind, some might align more closely with certain sleep postures:
Stumptown Shredded Latex and Stumptown Adjustable Pillow: Initially crafted with side sleepers in mind, these adjustable pillows are versatile and can suit sleepers in any position. Their adaptability makes them particularly well-suited for those with broader shoulders.

Stumptown Solid Latex, Stumptown Down & Stumptown Micro Fiber Pillows: Primarily tailored for those who find comfort sleeping on their back or stomach.
However, it's essential to acknowledge that choosing a pillow is a deeply personal decision. Factors such as shoulder width can significantly influence the suitability of a pillow for side sleeping. For example, individuals with narrow shoulders might find any of our pillows comfortable for side sleeping, while those with broader shoulders might lean towards the adjustable Shredded Latex or Bamboo Chip (Adjustable) options.
Furthermore, the type of mattress you have can also play a role. A softer mattress might elevate the pillow's loft, potentially altering the height and comfort level one might need.
It's worth noting that our suggestions are just that – recommendations to guide your choice. Everyone's comfort preferences are unique, and the best pillow for you is the one that feels just right. We always prioritize your satisfaction, so we encourage considering these pointers as a starting point rather than definitive guidelines. Sleep is subjective, so take your time, trust your comfort instincts, and drift into your dreamiest nights.